After a long hiatus due to broken computer shit, Inconsiderate Audio is back and producing another episode!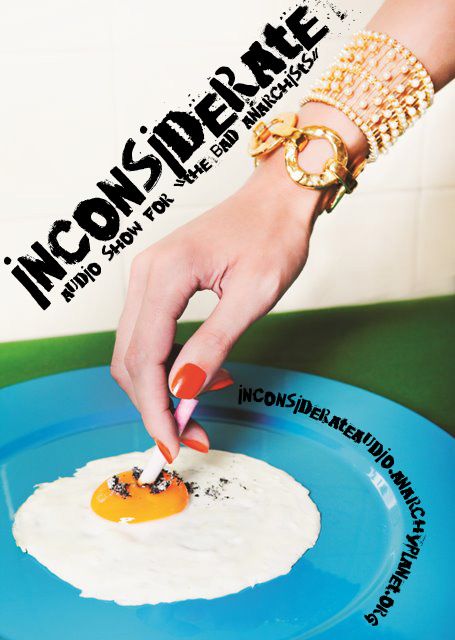 Inconsiderate is impatiently awaiting an avalanche of contributions to pour in for us to sift through and edit to make you look worse than you are. So far, you can still expect Nothing Matters News, Squee returns with another rant, and an interview about anarchist parenting in upcoming Episode #4!
However, we have an extremely inconsiderate assignment for everyone:
Record (vid or audio) telling children that Santa (and Jesus, for bonus points) aren't real, and get their (or their parents) reactions/thoughts/tears. The children can be your own, or strangers, or at the mall lined up to see the mall Santas.
We would love to feature a real segment of this happening everywhere, but we'll need your help to get an array of samples to ensure a quality outcome. Not fuckin' around, help make this happen! Let children know that not only is the world not a merry land of magical gift givers, but also that all authorities (even their parents) will lie to them, and that they at least deserve the truth of such a world and to be taught real ways to enjoy it!
To those who would say this is "cruel": "Cruel" is raising a child in a world of lies, condescendingly softening reality with myths of magical gift givers, as if their minds are not capable of flourishing in the reality of the world!
No, the truth is a kindness to pay someone, and provides a gateway to interpret the actual cruelty done upon them by those they trust that would deceive them!
SANTA IS NOT REAL! SANTA IS MANIPULATIVE CONSUMERISM VEILED AS GENEROSITY! GENEROSITY IS REAL, AND SANTA DESTROYS ITS INTEGRITY! SANTA LUBES THE BUTTHOLE OF YOUR MIND FOR JESUS (AND HIS VILE PRIESTS AND POLITICIANS) TO SLIDE IN AND CONTROL YOU!
Moving on…
Inconsiderate is also looking for:
– the "Lewis Blacks of anarchism," to yell and rant hard and clever shit and send it in
– real life trolls to go to their local events and conduct spicy interviews on unsuspecting sucker-emcees (examples are the 'field reports' in previous episodes).
– interviews with assorted interesting (and inconsiderate) folks
– whatever other assorted bits of trouble-making and rants that you would deem inconsiderate!
GET ON IT, GET IN TOUCH. DEAD FUCKING SERIOUS ABOUT THE SANTA ASSIGNMENT. GET ON IT!
inconsiderateaudio@yahoo.com
(there's also a DONATE button, now. trust me, it will do preferable things.)